صور من الشذوذ الجنسي المحرمة في القرآن الكريم والسنة النبوية وأضراره والحكمة من تحريمه
Examples of Contradictory Sexual Practice That is Prohibited in The Noble Qurʾān and Sunnah: Its Harms and the Wisdom of Its Prohibition
Keywords:
homosexuality , lesbianism, lesser homosexuality
Abstract
The concept of homosexuality is considered as sexual practice contrary to the normal instincts that God gave people, and unfortunately, homosexuality has spread in Western societies on a large scale. This concept is met with great approval by Western people, resulting in spite and hatred by this group to Islam and Muslims as a whole Making things worse, a group of so-called Islamic thinkers and researchers has emerged to defend this heinous crime by interpreting legal texts according to their desires. Hence, this research aims to explain the Qurʾānic verses and authentic Prophetic hadiths on homosexuality, demonstrating the invalidity of this concept and proving that it is a deviation from nature intended by God Almighty to humans and cannot be deemed as a human right. Undoubtedly homosexuality has dire consequences on individuals and societies. In this study, the researcher referred to many important sources (i.e., texts of the Noble Qurʾān, Sunnah of the Prophet, books of exegesis, explanations on books of the four schools of thought, and others) that deal with the issue.
References
Al-Farabi, Al-Gohary Ismail bin Hammad. 1987 A.D. Al-Sahhah Taj Al-Linguistics and Sahih Al-Arabia, Beirut: Dar Al-Kutub Al-'Aliyyah
Ministry of Endowments and Islamic Affairs, 1404-1427 A.H. The Kuwaiti Jurisprudence Encyclopedia, Kuwait: (without a publisher).
Praise, Muhammad bin Ibrahim. 1994 AD. Moral crime = the work of a people, sodomy = damages = means of prevention and treatment. Riyadh: Dar Ibn Khuzaymah.
Al-Tirmidhi, Abu Issa Muhammad bin Isa bin Surah bin Musa bin Al-Dahhak, 1998 AD. Sunan al-Tirmidhi. Beirut: Islamic West House.
Ibn Hanbal, Ahmad Ibn Hanbal Abu Abdullah Al-Shibani. 1999 AD. Musnad of Imam Ahmad bin Hanbal, edited by: Shuaib Al-Arna`ut and others, 2nd Edition Beirut: Foundation for the Message.
Ibn Taymiyyah, Taqi al-Din Abu al-Abbas Ahmed bin Abd al-Halim. 1995 AD Majmoo 'al-Fatwas, edited by Abd al-Rahman bin Muhammad bin Qasim, Medina: King Fahd Complex for the Printing of the Noble Qur'an.
Abu Dawood, Suleiman bin Al-Ash'ath Al-Sijistani 2009 CE, Sunan Abi Dawood, edited by: Shuaib Al-Arnaout and Muhammad Kamel Qarah Belli, Cairo: Dar Al-Risala Al-Alamiah.
Egyptian, Abdel-Sabour Abdel-Qawi, 2016. Crimes of Presentation and Morals, Riyadh: Law and Economics Library.
Ibn Majah, Muhammad ibn Yazid Abu Abdullah al-Qazwini, 2003 CE, Sunan Ibn Majah, edited by: Sidqi Jamil Al-Attar, 1st Edition, Beirut: Dar Al-Fikr.
Al-Shrouf, Ibrahim Muhammad Ahmad, 2005 A.D. Preventive Family Health in the Light of Islamic Purposes, Jordan: Dar Al-Muqtaseb.
The Standing Committee for Academic Research and Issuing Fatwas, 1424. AH Fatwas of the Permanent Committee for Academic Research and Ifta, verified by Ahmad bin Abdul Razzaq Al-Duwaish, Riyadh: Dar Al-Moayad for publication and distribution.
Al-Thamali, Mohammed bin Awad. 2017 m. Forbidden intercourse, punishment and effects. Umm Al-Qura University Journal of Sharia Sciences and Islamic Studies.
Muslim, Muslim bin Al-Hajjaj Abu Al-Hussein Al-Qurashiri Al-Nisaburi. 1991 AD. Sahih Muslim. Beirut: House of Revival of Arab Heritage, edited by: Mohamed Fouad Abdel-Baqi.
Jalajil, Makhlouf Mohamed Mohamed. 2016 m. Intimidation is one of the legal prohibitions in light of the Qur'an and Sunnah, and the duty of preachers and doctors towards it. Egypt: Faculty of Fundamentals of Religion and Islamic Da`wah, Tanta.
Al-Abbadi, Hamid bin Muhammad bin Mutab. 2003 AD. Discretionary punishment for the crime of adultery in Islamic jurisprudence. Riyadh: Naif Arab University for Security Sciences.
Ibn Qayyim al-Jawziya, Muhammad bin Abi Bakr bin Ayyub bin Saad al-Zar'i al-Dimashqi, Abu Abdullah Shams al-Din. 1429 H. The adequate answer for those who asked about a cure or a disease and a medicine, Jeddah: Islamic Fiqh Academy.
Ibn Qayyim al-Jawziya, Muhammad bin Abi Bakr bin Ayyub bin Saad al-Zar'i al-Dimashqi, Abu Abdullah Shams al-Din. (No date). Zad al-Ma'ad in the Guidance of Khair al-Abbad, Beirut: The Message Foundation.
Ismail, Jamal bin Abdul Rahman. (No date). Do not come close to immorality. Saudi Arabia: The Saudi Ministry of Endowments.
Ibn Qayyim al-Jawziya, Muhammad bin Abi Bakr bin Ayyub bin Saad al-Zar'i al-Dimashqi, Abu Abdullah Shams al-Din, 2012 CE. Prophetic Medicine, Beirut: Dar Al-Hilal.
Al-Lahham, Saeed Muhammad. 2000 m. Explanation of the carrot and the stick, Riyadh: Dar Alam al-Kutub.
Zio, Calf, 2017. Social perceptions of university student homosexuality. Algeria: University of May 8, Guelma.
Abdel Wahab, Hanan Shababna Ibrahim. 2018 m. Preventive and curative measures for society from homosexuality in light of the Holy Quran. Egypt: Sohag University, Faculty of Arts.
As-Saadi, Ali bin intruder Allah bin intruder. 2011 m. Sexual perversion between Islamic culture and Western culture. Medina: Taibah University.
Al Mahrouqi, Mayada Mustafa Muhammad. 2019 m. Legal and legal violations of abnormal same-sex relationships. Egypt: Mansoura University.
El Sawy, Adel El Sawy Mahmoud. 2017 m. The crime of infringement with causing disease by abnormal sexual practices in light of medicine and religion. Alexandria: Yearbook of the College of Islamic and Arabic Studies.
Al-Roni, Nabila Ali Hussein, 2015. The Danger of Contemporary Western Intellectual Invasion to Muslim Women: An Applied Study on the Term Gender. Sudan: University of the Qur'an 2 The Noble Qur'an and Islamic Sciences.
Faqiri, Alawiya Muhammad Othman. 2015 m. Preventive education as narrated by the Mothers of the Believers in the affairs of women. International University of Africa - African Islamic Center.
Directorate of Communicable Diseases Control Department of Health, 2013. Department of Public Health and Clinical Services. Western Australia state: (without publisher)
Jaber, Abdel Nasser Mohammed. 2017 m. Legitimate measures to prevent sexual diseases. Jordan: Al al-Bayt University, p. 282.
Al-Fawzan, Saleh bin Mohammed, 2014. The effect of herpes disease on the marriage contract, a jurisprudential study. Riyadh: General Presidency of Scholarly Research and Ifta.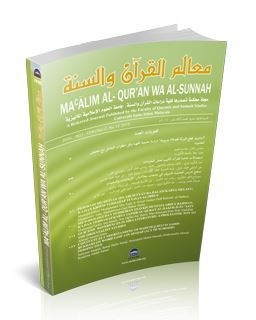 How to Cite
Ahmed Ibrahim Mahmoud Ahmed, & Muhammad Arif Musa. (2021). صور من الشذوذ الجنسي المحرمة في القرآن الكريم والسنة النبوية وأضراره والحكمة من تحريمه: Examples of Contradictory Sexual Practice That is Prohibited in The Noble Qurʾān and Sunnah: Its Harms and the Wisdom of Its Prohibition. Maʿālim Al-Qurʾān Wa Al-Sunnah, 17(2), 145-160. https://doi.org/10.33102/jmqs.v17i2.264
Copyright (c) 2021 Ahmed Ibrahim Mahmoud Ahmed
This work is licensed under a Creative Commons Attribution 4.0 International License.
The copyright of this article will be vested to author(s) and granted the journal right of first publication with the work simultaneously licensed under the Creative Commons Attribution 4.0 International (CC BY 4.0) license, unless otherwise stated.
Authors are able to enter into separate, additional contractual arrangements for the non-exclusive distribution of the journal's published version of the work (e.g., post it to an institutional repository or publish it in a book), with an acknowledgement of its initial publication in this journal.
Authors are permitted and encouraged to post their work online (e.g., in institutional repositories or on their website) prior to and during the submission process, as it can lead to productive exchanges, as well as earlier and greater citation of published work.