Keberkesanan Pengajaran Dan Pembelajaran Terhadap Mata Pelajaran Pendidikan Islam Secara Dalam Talian: Perspektif Guru Di Sekolah Maahad Hafiz, Klang
The Effectiveness of Online Teaching and Learning in Islamic Education Subjects: Teachers' Perspectives at Maahad Hafiz Klang
Keywords:
Effectiveness, Teaching, Islamic Education, MOE, Online
Abstract
The COVID-19 pandemic had impacted teaching and learning (P&P) at schools and higher institutions. The schools closure due to the Movement Control Order (MCO) had prompted the Ministry of Education Malaysia (MOE) to prepare a Teaching and Learning at Home Manual (PdPR) as an alternative to teaching and learning in the new norms. Practical assessment in Islamic Education subjects such as servitude (Ibadah) and Islamic Jurisprudence (fikh) is a challenge in providing the understanding to the students. In addition, the attendance and commitment of students in learning sessions are the matters that need to be given attention to in observing the effectiveness of the teaching and learning. Thus, this study aims to identify the online teaching and learning methods for Islamic Education subjects in Maahad Hafiz School, Klang. This study also examines the teachers' perspectives on online teaching and learning methods (P&P) on Islamic Education subjects and analyzes its effectiveness. This descriptive study will be using both qualitative and quantitative data. Library method is used to analyze documents such as reports and circulars from the MOE. Semi-structured interviews are also used in this study on two selected teachers. The quantitative data is obtained using a questionnaire method on 12 teachers at Sekolah Maahad Hafiz, Klang. The data of this study are analyzed using frequency, percentage, and mean methods by statistical testing using Statistical Package For The Social Science (SPSS) version 22.0. The result shows that all of the teachers prefer to use the Google Meet application in their teaching and learning process as compared to other applications. The study also found that the effectiveness of online teaching & learning is high with the mean of 3.99. Nevertheless, all of the teachers prefer the face-to-face method rather than the online method. The teachers also agreed that online teaching and learning must be made as a new platform in education even though there are many challenges for the teachers in applying this method such as the accessibility of the internet, students' awareness in the classroom and teachers' delivery in assuring the students' comprehension.
References
Abu Hassan, S. A. (2020). Keberkesanan Pembelajaran Dan Pengajaran Dalam Talian (Epembelajaran) Terhadap Pembelajaran Pelajar Di Kolej Komuniti Hulu Langat. International Journal of Humanities Technology and Civilization. 2(10), 1-14. Di akses daripada https://journal.ump.edu.my/ijhtc/article/view/6241/1232
Ahmad Al-Munzir Ridzuan & Mansur Nasir. (2020). Kajian Tinjauan Impak Pandemik Covid-19 Terhadap Tahap Kesediaan Pelajar Kolej Komuniti Lahad Datu bagi Pembelajaran Secara Atas Talian. Seminar Pembelajaran Sepanjang Hayat Peringkat Kebangsaan (SPSH) 2020. (pp. 11-20) Di akses daripada https://www.researchgate.net/publication/348317544_Kajian_Tinjauan_Impak_Pandemik_Covid19_Terhadap_Tahap_Kesediaan_Pelajar_Kolej_Komuniti_Lahad_Datu_Bagi_Pembelajaran_Secara_Atas_Talian.
Bernama. 23 Januari 2021. Pdpr: Cabaran guru, pelajar dan ibu bapa. https://www.hmetro.com.my/mutakhir/2021/01/667475/pdpr-cabaran-guru-pelajar-dan-ibu-bapa
Chua, Y. P. (2012). Mastering Research Method. McGraw-Hill Education. 105.
Ehwan Ngadi. 8 Mac 2021. COVID19: Implikasi Pengajaran dan Pembelajaran Atas Talian. Di akses daripada https://www.usim.edu.my/news/in-our-words/covid19-implikasi-pengajaran-dan-pembelajaran-atas-talian/
Hussin, R. 8 Mac 2021. Pembelajaran dalam talian sebagai norma baharu. Di akses daripada https://www.usim.edu.my/news/in-our-words/pembelajaran-dalam-talian-sebagai-norma-baharu/
Ismail. A. (2018). Strategi Pengajaran Pendidikan Islam Di Sekolah Menengah Daerah Besut, Terengganu. Perspektif: Jurnal Sains Sosial Dan Kemanusiaan, 10(2), 11-21. Diakses daripada https://ejournal.upsi.edu.my/index.php/PERS /article/view/1782
Ismail, A., Osman, K. & Hassan, N. H. (2020). Cabaran Pengajaran Dan Pembelajaran Tasmik Hafazan Al-Quran Secara Atas Talian Sewaktu Pandemik Covid-19. Bicara Dakwah Kali Ke 21: Dakwah Dalam Talian Semasa Pandemik. 110-116 Di akses daripada http://www.ukm.my/bicaradakwah/wp-content/uploads/2020/11/BD21-10.pdf
Kamarul Azmi Jasmi & Ab. halim. (2007). Pendidikan Islam, Kaedah Pengajaran & Pembelajaran, Johor Cetak Ratu Sdn. Bhd.
Kearsley, Lynch. W dan Wizer D. (1995). "The effective & impact of online learning in graduate education." Education Technology.
Kementerian Pendidikan Malaysia. (2020). Manual Pengajaran dan Pembelajaran dari Rumah. Di akses daripada https://www.moe.gov.my/muat-turun/lain-lain/manual-pdp-di-rumah/3727- manual-pdpdr/file
Kuppusamy, Y. & Norman, H. (2021). Kemahiran Teknologi dan Kesediaan Melaksanakan Pembelajaran dan Pemudahcaraan Dalam Talian Semasa Era Pandemik Dalam Kalangan Guru di Sekolah Rendah Tamil. Jurnal Dunia Pendidikan. 3(1), 428-441. Di akses daripada http://myjms.mohe.gov.my/index.php/jdpd/article/view/12937/6671
Merican, S. (2005). Penyelidikan Sains Sosial. Prentice Hall.
Mohd Najib. H, Abu Bakar. N. R & Othman. N. (2016). E pembelajaran dalam kalangan pelajar di institusi pengajian tinggi. [Pembentangan Kertas Kerja]. The 3rd International Conference on Management & Muamalah 2016 (3rd ICoMM). Kolej Universiti Islam Anatarabangsa Selangor. (182-194) Di akses daripada http://conference.kuis.edu.my/icomm/3rd/eproceedings/IC-018.pdf
Nor Hidayati Mokhtar. 1 November 2020. Pembelajaran atas talian untuk pembelajaran sepanjang hayat. https://news.utm.my/ms/2020/04/ pembelajaran -atas-talian-untuk-pembelajaran-sepanjang-hayat/
Salleh, M., Jamaludin, M. F., Mohd Safie, N. S. & Mohd Yusof, J. (2021). Tinjauan Keberkesanan Pembelajaran Secara dalam Talian Ketika Pandemik Covid-19: Perspektif Pelajar Sains Kejuruteraan Politeknik Ibrahim Sultan. Jurnal Dunia Pendidikan. 3(1), 374-384. Di akses daripada http://myjms.mohe.gov.my/index.php/jdpd/article/view/12591/6307
Tamuri, A. H & Nik Yusoff, N. M. R. (2010). Kaedah Pengajaran dan Pembelajaran Pendidikan Islam. UKM Press.
Sigit Trihariyanto, Eko Supriyanto, Muthoifin, Zahrotul Uyun. (2012). Strategi Pembelajaran Inovatif Pendidikan Agama Islam Dengan Media Powerpoint dalam Meningkatkan Mutu Pendidikan di Sdit Muhammadiyah Sinar Fajar Cawas dan Sd Muhammadiyah Pk Baya.. Jurnal Studi Islam, 21(1), 109-120. Di akses daripada http://journals.ums.ac.id/index.php/profetika/article/download/11653/5831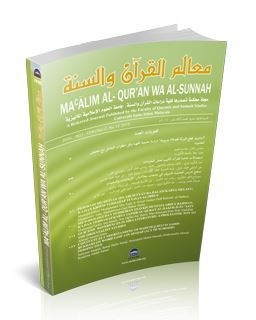 How to Cite
Muhammad Hafiy bin Abdul Rashid, & Mumtazah binti Narowi. (2021). Keberkesanan Pengajaran Dan Pembelajaran Terhadap Mata Pelajaran Pendidikan Islam Secara Dalam Talian: Perspektif Guru Di Sekolah Maahad Hafiz, Klang: The Effectiveness of Online Teaching and Learning in Islamic Education Subjects: Teachers' Perspectives at Maahad Hafiz Klang. Maʿālim Al-Qurʾān Wa Al-Sunnah, 17(2), 114-128. https://doi.org/10.33102/jmqs.v17i2.332
Copyright (c) 2021 Muhammad Hafiy bin Abdul Rashid, Mumtazah binti Narowi
This work is licensed under a Creative Commons Attribution 4.0 International License.
The copyright of this article will be vested to author(s) and granted the journal right of first publication with the work simultaneously licensed under the Creative Commons Attribution 4.0 International (CC BY 4.0) license, unless otherwise stated.
Authors are able to enter into separate, additional contractual arrangements for the non-exclusive distribution of the journal's published version of the work (e.g., post it to an institutional repository or publish it in a book), with an acknowledgement of its initial publication in this journal.
Authors are permitted and encouraged to post their work online (e.g., in institutional repositories or on their website) prior to and during the submission process, as it can lead to productive exchanges, as well as earlier and greater citation of published work.